Highlighting the efforts of Abu Dhabi Stem Cells Center (ADSCC) to pioneering research and transforming healthcare, a milestone has been achieved in one of its ongoing clinical trials, the Extracorporeal Photopheresis (ECP) for Optimal Management of Multiple Sclerosis (PHOMS) study.
The study at ADSCC, a PureHealth subsidiary, the largest healthcare platform in the Middle East, evaluates the safety and efficacy of using ECP to treat people with multiple sclerosis (MS). As an immunomodulatory therapy used for some cancer treatments, graft-versus-host disease (GvHD), and autoimmune diseases, ECP in this study seeks to alleviate MS symptoms by rebalancing the immune system of the patient.
ADSCC has revealed that one of the success stories within the PHOMS trial involves a UAE resident, diagnosed with MS since 2019, who prior to participating in the study experienced debilitating symptoms such as difficulty walking, imbalance, gait disturbance, slurred speech and cognitive impairment. After six months of treatment with ECP, the patient has reported significant improvements in mobility, reduced imbalance-related issues and clearer speech. These improvements have been consistently observed during his three-month neurological testing.
In 2022, ADSCC's trial has received approval from the Department of Health – Abu Dhabi (DOH), and since then has enrolled a group of participants diagnosed with Secondary Progressive Multiple Sclerosis (SPMS) or Relapsing-Remitting Multiple Sclerosis (RRMS). The trial is also registered in the global clinical trials registry ClinicalTrials.gov.
Dr. Yendry Ventura, Principal Investigator in the PHOMS study at Abu Dhabi Stem Cells Center, said: "Clinical trials and research play a pivotal role in advancing healthcare and bringing cutting-edge innovations within the public's reach. These endeavours drive clinical progress, enhance patient care and bridge the gap between groundbreaking discoveries and real-world healthcare solutions. In line with the vision of the UAE's leadership and as leaders in clinical research in UAE, our clinical trials and research efforts at ADSCC signify an extraordinary chapter in our medical history and expedite our pursuit of a healthier society and establishing Abu Dhabi as a prominent global destination for healthcare, innovation and research. The clinical outcome of our patients in this clinical trial is a milestone that underscores our dedication to rewriting the narrative of MS treatment in the region."
Dr. Fatima Al Kaabi, Executive Director of the Abu Dhabi Bone Marrow Transplant Program (AD-BMT) at Abu DhabI Stem Cells Center, Investigator in PHOMS Study, and Vice Chair of the National MS Society, said: "ADSCC is proud to be at the forefront of innovative research in the field of multiple sclerosis treatment, and through groundbreaking therapies and research, our aim is to improve MS patients' quality of life. Unveiling the impact of ECP in people with MS is a journey that started a year ago through the PHOMS clinical trial at ADSCC during which our world-class physicians, scientists and dedicated researchers worked together to pioneer cutting-edge therapies for MS patients. In the pursuit of excellence, we recognise that every discovery we make has the potential to change lives today and tomorrow."
Dr. Yandy Marx Castillo Aleman, Head of Clinical Trials and Sub-Investigator in PHOMS study at Abu Dhabi Stem Cells Center, said: "PHOMS trial has already made significant strides with our participants. Patients are accepted following specific clinical, laboratory and imaging criteria. Within the framework of the PHOMS study, patients undergo a series of 28 ECP procedures spanning six months, followed by an additional period of six months for monitoring by the ADSCC Neurology team. The promising results we saw with our patients allow us to move forward with the PHOMS study which will be completed in another 12 months."
Dr. Ruqia Mir, Neurology Consultant and Sub-Investigator in PHOMS study at Abu Dhabi Stem Cells Center, said: "This innovative procedure used in our study, ECP, involves the treatment of a patient's autologous leukocytes with a photoactivatable drug, followed by exposure to UVA light and subsequent reinfusion into the patient. ECP has shown promising results in addressing a range of medical conditions, and now with our clinical trial, is offering hope to individuals living with MS. Through the PHOMS study and our commitment to transformative research, we strive to provide additional treatment options for patients facing this challenging condition."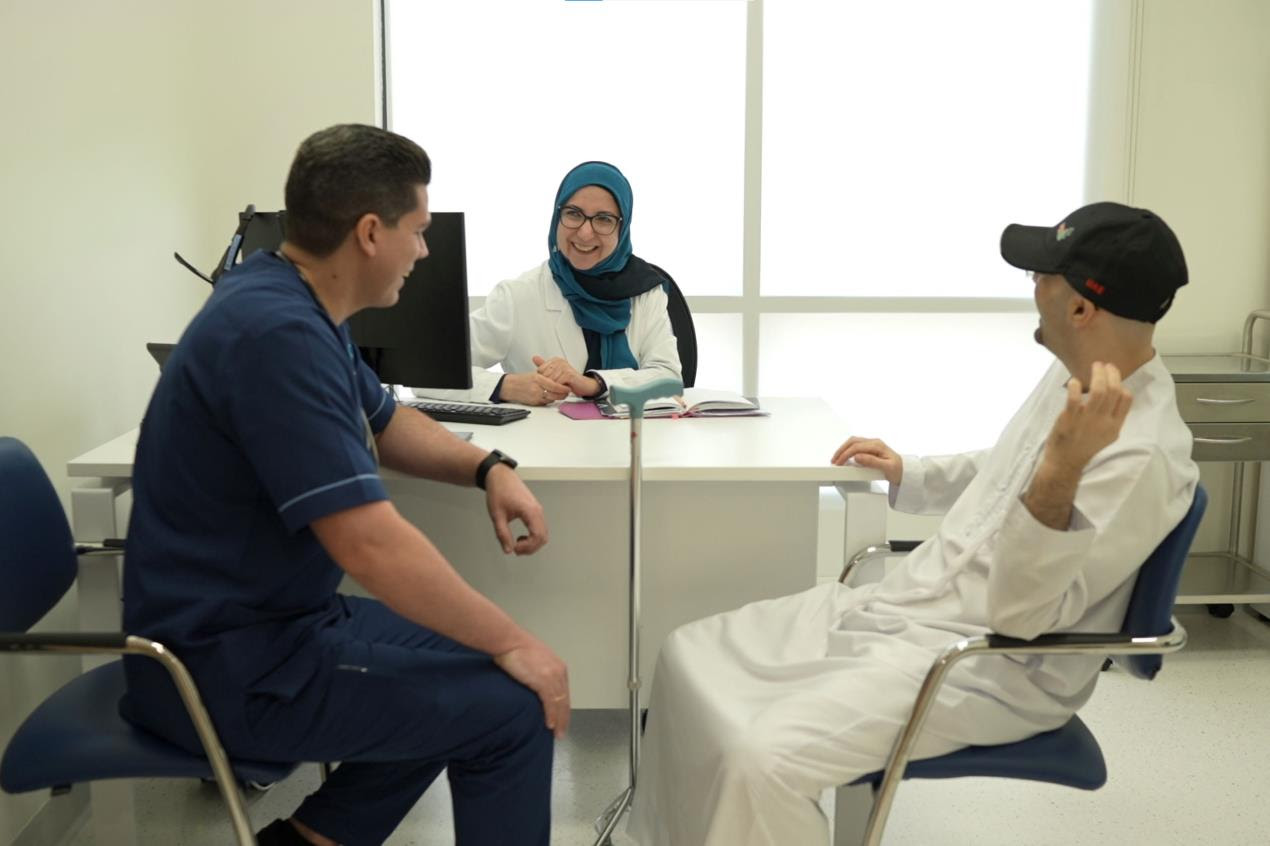 About Abu Dhabi Stem Cells Center (ADSCC):
The Abu Dhabi Stem Cells Center (ADSCC), a PureHealth asset, is a renowned healthcare institution in Abu Dhabi, UAE, specializing in advanced stem cell therapy, research, and regenerative medicine. ADSCC is the incubator of the Abu Dhabi Bone Marrow Transplant (AD-BMT©) program, the first comprehensive program to provide autologous and allogeneic hematopoietic stem cells transplant (HSCT) for adult and pediatric patients in the UAE since 2020. As a Center of Excellence in Hematopoietic Stem Cell Transplantation accredited by the Department of Health Abu Dhabi, ADSCC's holistic service model includes advanced research, clinical trials, translational care, and manufacturing capabilities. ADSCC has one of the region's most advanced and sophisticated research labs and a robust multidisciplinary hospital. It is the only center in the UAE to encompass a cell processing laboratory, a state-of-the-art apheresis unit, a stem cell collection unit, a Good Manufacturing Practice (GMP) laboratory, and dedicated multi-specialty outpatient clinics and inpatient wards. As the UAE's first and most experienced stem cell transplant center, ADSCC has received multiple prestigious recognitions and conducted strategic collaborations, solidifying its position as a center of excellence. For more information, please visit www.adscc.ae
About PureHealth:
By advancing the science of longevity, PureHealth is introducing the healthcare of the future from the UAE to the rest of the world. PureHealth is the UAE's largest integrated healthcare platform, with an ecosystem that challenges lifespans and reimagines health spans. With 25+ hospitals, 100+ clinics, multiple diagnostic centers, insurance solutions, pharmacies, health tech, procurement, investments and more, its groundbreaking innovations at the forefront of healthcare, as the company is on a mission to unlock time for humankind.
Pure Health's network of healthcare facilities across Abu Dhabi and the Northern Emirates comprises:
SEHA – Abu Dhabi Health Services Company – One of the largest healthcare networks of hospitals and clinics in the UAE
Daman – The National Health Insurance Company, the UAE's leading health insurer
The Medical Office – Overseeing Sheikh Khalifa Hospitals and healthcare facilities established under the initiatives of H.H. The President of the UAE
Rafed – The UAE's largest healthcare Group Purchasing Organization
PureLab – Managing and operating the largest network of laboratories in the region.
Abu Dhabi Stem Cells Center – Specialist healthcare center focused on cell therapy and regenerative medicine.
One Health – Sales, service support, and engineering network that provides end-to-end medical solutions to a base of over 300 healthcare service providers
The Life Corner – Abu Dhabi's first holistic pharmacy, serving the health and wellness establishment.