In its continuous commitment to fostering sports activities and promoting fitness within the community of Ajman, the Ajman Department of Tourism Development (ADTD) is delighted to announce the upcoming fourth edition of the Ajman Duathlon, scheduled to take place at Al Safia Park, Ajman, on October 1, 2023.
Organized by Endurance Sports Services, the Ajman Duathlon offers an exceptional platform for sports enthusiasts and participants from diverse sporting backgrounds to excel in their performances and engage in an exhilarating sports experience. This distinguished event combines running and cycling, allowing participants to select distances that align with their capabilities. The Duathlon caters to various age groups and fitness levels.
The event offers a diverse array of categories suitable for participants of all ages and fitness levels, encompassing professionals, amateurs, and even children. These categories include the Long Distance (10 km run – 40 km bike – 5 km run), Sprint Distance (5 km run – 20 km bike – 2.5 km run), Super Sprint (2.5 km run – 10 km bike – 2.5 km run), and Junior Super Sprint (1.5 km run – 10 km bike – 1.5 km run).
With such a range of options, participants can select the category that best aligns with their fitness goals. Don't miss your chance to participate; registration is open until September 29th, 2023.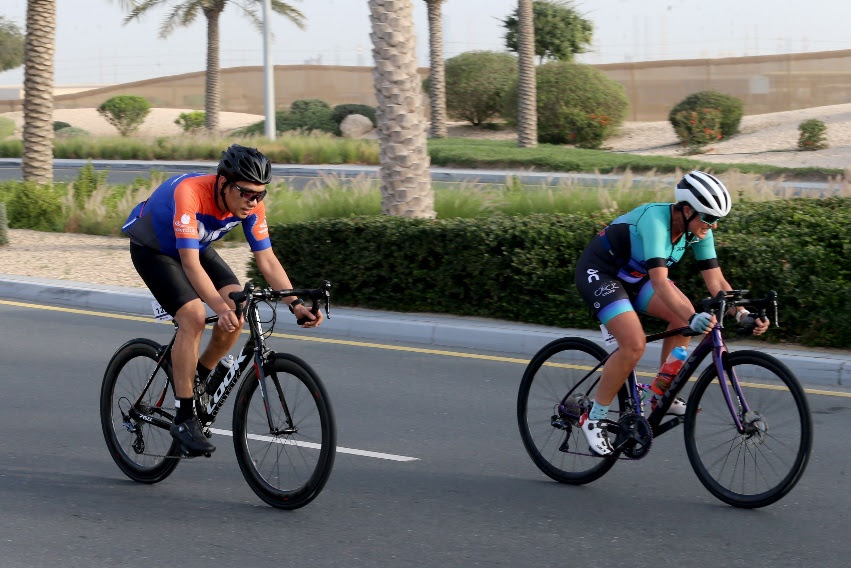 His Excellency Mahmood Khaleel Alhashmi, Director General of the Ajman Department of Tourism Development, expressed heartfelt appreciation for the diligent efforts and dedication of the event's organizing teams. He emphasized the vital role such sporting events play in fostering social cohesion among diverse segments of society, aligning with Ajman's comprehensive tourism objectives.
Furthermore, Alhashmi highlighted the department's commitment to synergizing sporting, cultural, and heritage events as part of its broader strategy to elevate Ajman as a prominent tourist destination on both local and global scales. He noted that these efforts manifest in a dynamic annual calendar featuring a variety of events that captivate audiences and enhance cultural exchange.
Alhashmi underscored the Ajman Duathlon's positive impact on the emirate, reflecting its remarkable ability to host a plethora of activities and events that contribute significantly to the growth and prosperity of the tourism and hospitality sectors. This, in turn, has elevated Ajman's reputation as a distinguished destination for leisure and business travellers.
ADTD is collaborating with several sports and volunteer organizations to organize this grand sporting event. Partnerships include Saudi German Hospital as the gold sponsor of the event, along with Gulfa Water, the official hydration sponsor. The Department is also pleased to announce the generous support of Ajman Police, Ajman Municipality & Planning Department, Infinity Fitness Club, CYKL Garage Zayed Knights team, and Sharjah Triathlon.
If you seek a fresh sporting challenge and a delightful experience with friends and family, seize the opportunity to participate in the Ajman Duathlon 2023. Register now and be part of this distinguished sporting event.
About Ajman Department of Tourism Development:
Ajman Department of Tourism Development (ADTD) aims to promote the touristic attractions across the emirate, and shedding light on the unique elements that Ajman has to offer as one of the leading travel destinations in the UAE.
The department works on developing strategies to improve local, regional, and international tourism in the emirate through planning and implementing global campaigns for tourism promotion, organizing and participating in conferences and exhibitions, regulating and developing the tourism industry, and improving the capacities and services of the tourism facilities and businesses operating in the emirate.
Ajman Department of Tourism Development (ADTD) is responsible for setting regulations and legislations required to organize the tourism sector in the emirate, finding the appropriate tourism standards and services provided to tourists, and issuing licenses for travel and tourism agencies and administering their efficiency.