DUBAI, UAE /PRNewswire/ — UAE-based real estate developer DAMAC Properties, is set to announce the launch of its latest branded tower project – Canal Heights.
A shimmering sequel to the developer's recently launched CHIC Tower, this stunning 44-storey tower will offer luxury waterfront living, with the city's famed financial and shopping district just a stone's throw away.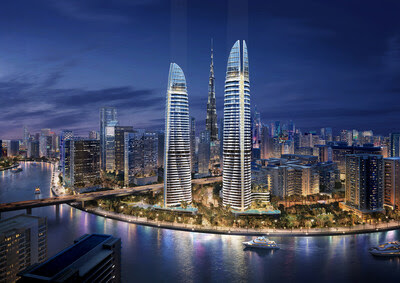 With sleek and shining exteriors, Canal Heights offers a perfect blend with interiors designed by Swiss jeweller de GRISOGONO and studded with effervescent textures and fluid forms symbolic to the beauty of a pearl.
"Innovation and exclusivity is one of DAMAC's constant ambitions. Through each and every new project of ours we strive to bring forth a product that is fresh, different and absolutely unique. Canal Heights is no different in that ambition, and brings a whole new world of possibilities and experiences. We once again combine the brilliance of a nature-inspired design with the splendour of de GRISOGONO to a project that we are sure to bring awe," said Niall McLoughlin, Senior Vice President of DAMAC Properties.
A most unique feature of the project will be an underwater pearl museum where people can make use of the chance to snorkel. Canal Heights will lead by example with this one of a kind facility, marking a new place in luxury living.
Canal Heights will offer its residents a serene ambience that elevates their wellbeing in the form of yoga domes and wellness arenas, set in harmony with private dining venues, also shaped in domes.
A shell-shaped pool will take centre stage at its recreational podium, ornamented with lounges and sun beds. Other amenities include a lap pool, a children's play area and zorb water balls for added fun in the pool.
Canal Heights will offer a range of layouts from studio, 1-bedroom, 2-bedroom, 3-bedroom and 4-bedroom apartments with expansive views of the bustling Business Bay district, and Sheikh Zayed Road.
About DAMAC:
DAMAC Properties has been at the forefront of the Middle East's luxury real estate market since 2002, delivering award-winning residential, commercial and leisure properties across the region, including the UAE, Saudi Arabia, Qatar, Jordan, Lebanon, Iraq, the Maldives, Canada, the United States, as well as the United Kingdom.
Since then, the company has delivered approximately 42,000 homes. Joining forces with some of the world's most eminent fashion and lifestyle brands, DAMAC has brought new and exciting living concepts to the market in collaborations that include a golf course by The Trump Organization, and luxury homes in association with Versace, Cavalli, Just Cavalli, de GRISOGONO, Zuhair Murad, Paramount Hotels & Resorts, Rotana and Radisson Hotel Group. With a consistent vision, and strong momentum, DAMAC Properties is building the next generation of Middle Eastern luxury living.