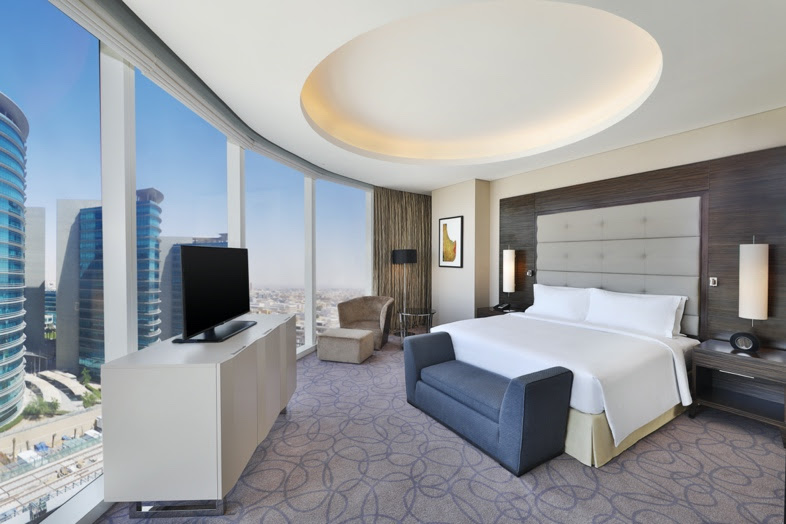 Riyadh, Saudi Arabia – Hilton Riyadh Hotel & Residences is recognising a series of successful initiatives and achievements throughout Ramadan, which brought sustainability to the forefront of the property's operations and saw increased engagement with the local community.
In a first-of-its-kind collaboration, Hilton (NYSE: HLT) had partnered with the United Nations Environment Programme (UNEP) West Asia and Winnow Solutions to host 'Green Ramadan' at Hilton Riyadh Hotel & Residences, which was a large-scale initiative that aimed to minimise and drive awareness around food waste. The hotel offered guests a curated dining experience at Amara, its on-site Ramadan tent, featuring local produce from Nadec and Pure Harvest Smart Farms. To further its reduction efforts, the property also joined with Black Cow to collect and compost Iftar buffet leftovers to be used as organic fertilisers, and with the Ita'am Food Bank to reinforce charitable giving – donating 100 meals per day throughout the holy month.
In an ongoing embrace of its 'Travel With Purpose', company-wide sustainability commitment – which includes cutting its carbon footprint in half by 2030 – Hilton Riyadh Hotel & Residences also participated in the annual Earth Hour for the third time on 25 March at 8:30pm. During the event, Hilton encouraged the hotel, its team members, and guests to turn off all non-essential lights and appliances to reduce energy consumption and acknowledge the need for eco-conscious solutions.
Last year, the property successfully reduced its energy consumption by 1.9 per cent , its LPG and fuel use by 10.7 per cent, and its water use by 24.5 per cent. Keeping the future in mind, Hilton Riyadh Hotel & Residences has set new targets for 2023, including the installation of renewable solar energy soltuions, the launch of water consumption awareness programmes, and the implementation of oil recycling facilities.
In the spirit of Ramadan – and in support of Global Autism Awareness Day on 2 April – Hilton Riyadh Hotel & Residences engaged the local community with an autism awareness campaign. In collaboration with the Society for Autism Families (SAF), the property donated 100 meals to SAF and over 3,000 prepared meals to the wider community throughout the month. Hilton Riyadh Hotel & Residences remains dedicated to supporting vulnerable communities and driving inclusivity, evidenced by the growing number of People of Determination on staff.
Commenting on the favourable outcome of the hotel's Ramadan achievements, Hans Schiller, General Manager,said: "We at Hilton Riyadh Hotel & Residences look back proudly on a historic Ramadan of achievements. Our Green Ramadan initiative, along with our participation in Earth Hour and our partnership with SAF, reflect our dedication to championing sustainability and social responsibility in the local hospitality industry. We remain committed to staying ahead of the curve with our unique approaches to eco-conscious solutions and will continue to drive inclusivity at both a local and regional capacity."
About Hilton Riyadh Hotel & Residences:
Nestled in the heart of Riyadh, Saudi Arabia, Hilton Riyadh Hotel & Residences is only a kilometre away from the upscale shopping, restaurants, and entertainment area at the Granada Mall. Conveniently located within driving distance of The Financial Plaza and Al Bujairi Heritage Park, the hotel combines all the class and comfort associated with the Hilton brand with the hustle and bustle of one the region's most up-and-coming cities. Hilton Riyadh Hotel & Residences features a range of residential apartments, rooms, and suites, as well as an indoor pool, kid's club, and local shuttle service. It also boasts several select dining options – including Teatro, Lotus, and Mayrig – and bespoke group travel and event facilities.
ABOUT HILTON HOTELS & RESORTS:
Hilton Hotels & Resorts has set the benchmark for hospitality around the world, providing new product innovations and services to meet guests' evolving needs. With more than 575 hotels across six continents, Hilton Hotels & Resorts properties are located in the world's most sought-after destinations for guests who know that where they stay matters. Hilton Honors members who book directly through preferred Hilton channels have access to instant benefits.