DUBAI, UAE /PRNewswire/ — Odoo, the leading provider of open-source business software, is pleased to announce the opening of its new office in Dubai South HQ. The state-of-the-art facility caters to 600 people and features an open space of 72,000 square feet to accommodate the needs of current employees and the company's ambitious future recruitment plans.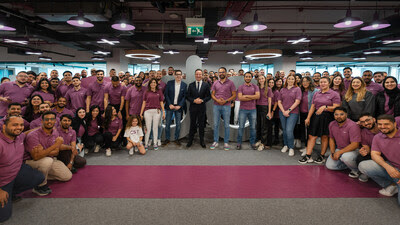 The new office will serve as the company's regional headquarter for the Middle East and North Africa (MENA) region, providing unparalleled support to its growing customer and partner base in the area. With the team's recent growth to 300 people and its ongoing recruitment efforts, Odoo is well-positioned to continue its rapid expansion in the region.
The design of the office "playground" symbolizes the company's culture that encourages employees to explore, learn and connect with others. The workstations, privacy pods, and collaboration points have the industrial look and feel to bring out the non-conventional workplace design, also syncing Odoo's branding colors and sprinkling it with a dash of arabesque tradition. The Gaming room and the Gym represent the modern workspace, while the indoor garden, meditation room, hot desks, and collaboration areas intend to bring in the element of nature. Additionally, there is a kitchen, theatre, dining area, multiple coffee points, music room, studio, and a cycling track.
"We are thrilled to open this new office in Dubai South HQ and to expand our presence in the MENA region," said Pavitra Singh, Managing Director at Odoo Middle East. "This facility will allow us to better serve our customers and partners in the region, and to provide a great work environment for our employees."
The new office is located in the heart of Dubai South, a master-planned city rapidly becoming a hub for business and innovation. The location provides easy access to the city's major transportation hubs, including Al Maktoum International Airport, and key business and residential areas.
About Odoo:
Odoo is a leading provider of open-source end-to-end business software for companies worldwide, from single-user startups to large enterprises with over 8 million users. Founded in 2005, Odoo thrives in a unique and fully open ecosystem that combines the resources of its community and partners to deliver a full range of easy-to-use, integrated, and scalable business applications.
The flexibility of Odoo is such that apps can be added according to the company's growth, adding one app at a time as the needs evolve and the customer base grows. The cloud-based Online Edition of Odoo ERP offers a customized solution specifically designed to solve SME needs. Fluidity and full integration cover the needs of even the most complex companies.