The purpose-driven, straight-talking business advisory firm launches new no-nonsense business book 'Made with Tough Love' to coincide with a year of operations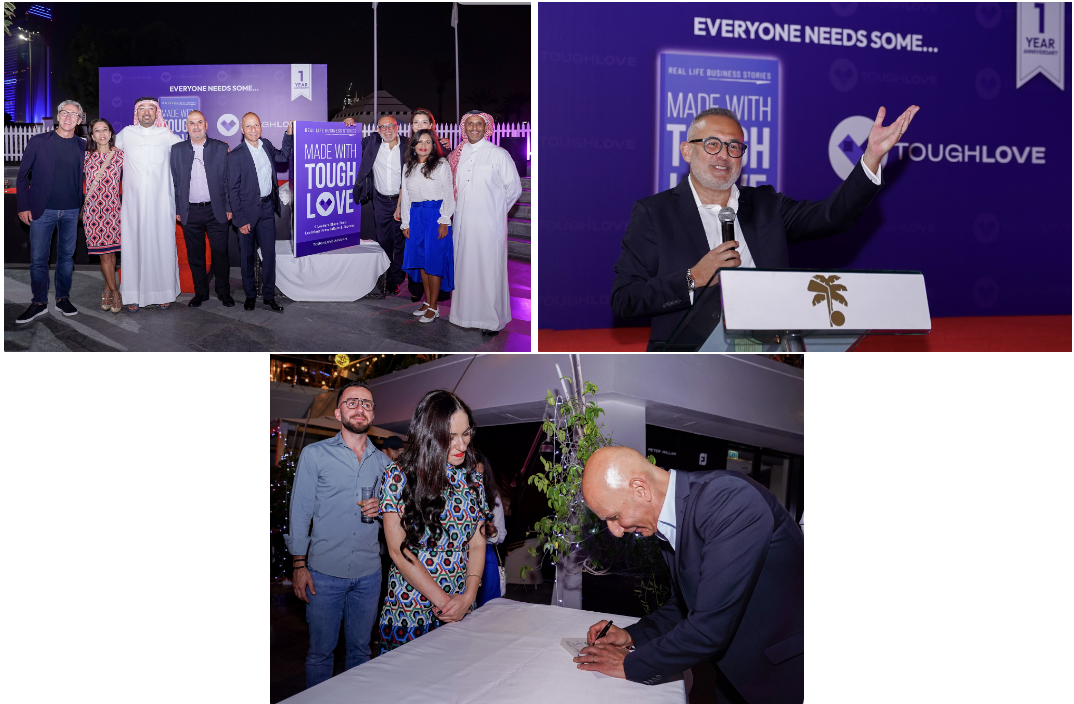 TOUGHLOVE Advisors celebrated their first anniversary with the launch of their book
'Made With Tough Love' on 9th March
Dubai, United Arab Emirates: It has been twelve months since a group of C-suite executives unleashed more than 250 years' worth of combined experience into the business world with the launch of TOUGHLOVE Advisors (TLA), a new company that has disrupted the traditional consultancy model in the UAE and beyond.
Specialising in improving business performance for underserved companies, the TOUGHLOVE Advisors are now aiming to reach more people than ever with the launch of a new book: Made With Tough Love.
Providing the same dose of straight-talking and uncomplicated advice that they offer in real life, the book launched on 9th March in book stores and online. It comprises a collection of inspiring real-life stories, insights and personal experiences from the nine business professionals who make up the TOUGHLOVE Advisors team. Sharing their learnings from their own successes and failures, each advisor brings a different perspective to the table.
Topics include Leadership, Business Operations, Marketing & Communications, Branding & Reputation, People and Organisational Culture, Innovation, Digital Transformation and even the Metaverse. With each advisor bringing their own unique take on the business world to the book, Made with Tough Love delivers the value of nine books in one.
The advisors' experience has been garnered in 80 multi-national companies, including Emirates, Etihad, FAB, P&G, Coca-Cola, Unilever, Landmark Group, L'Oreal, Visa, Leo Burnett, Publicis Communications, bp, Tetra Pak, Nokia, Redbull and HSBC.
A year of firsts:
In its first year of operation, TOUGHLOVE Advisors has offered up agile and scalable solutions to numerous SMEs, improving their business performance without sizeable overheads. It has also expanded and developed many strategic partnerships, further cementing its commitment to breaking down the barriers of traditional consultancy models.
Highlights include:
A collaboration with The American University in Dubai (AUD), which aims to bridge the gap between academia and industry experience.
The launch of an office in Riyadh, KSA to deliver expertise and consultancy in the Kingdom as a contribution to Vision 2030.
Khaled M. Ismail, CEO, TOUGHLOVE Advisors, said: "We are delighted to be celebrating the first anniversary of TOUGHLOVE Advisors, which saw us build partnerships with some incredibly exciting brands and companies and deliver expertise to several clients including government entities, regional companies, SMEs, family businesses and start-ups. Now, with launch of our new book, 'Made with Tough Love', each advisor shares years of experience and insight to ensure the lessons we've learned can be shared with business owners in the region and across the world."
"TOUGHLOVE is committed to fulfill its role, and is therefore here to stay, expand and grow. We will be ramping up our mission to make businesses better with more innovative concepts such as our TOUGHLOVE Academy launching later this year" said Kamal Dimachkie, COO TOUGHLOVE Advisors.