Venue Versatility is the Key to Unlocking the MENA Region's Events Potential.
Ethara sees growing demand for venue variety as the region adapts to fast-changing
consumer needs and expectations: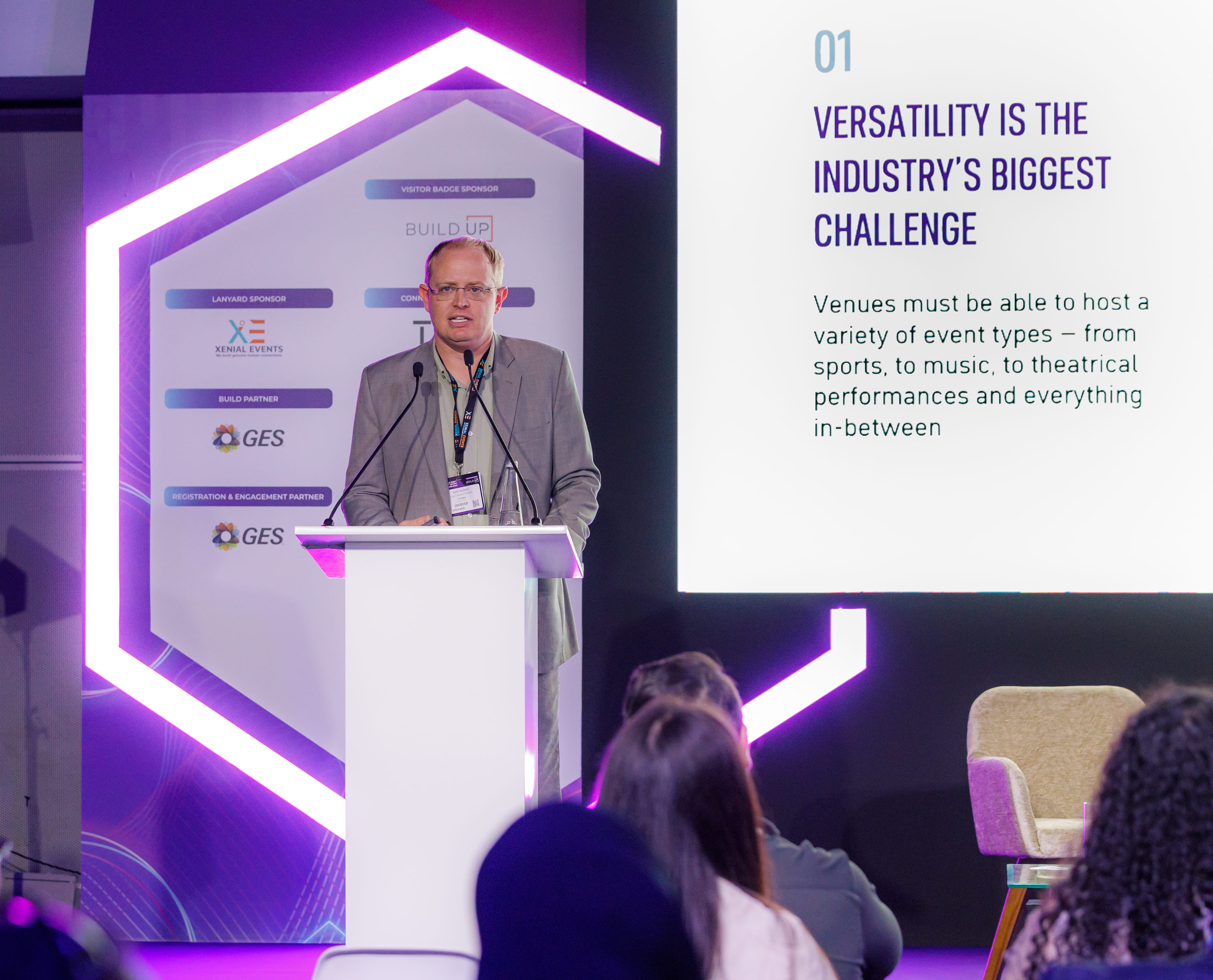 Abu Dhabi, UAE –Venue versatility is critical in unlocking the Middle East and North Africa's (MENA) vast events potential, says a leading industry figure.
Brint Jackson, Chief Venues Officer of Ethara, a recently launched events powerhouse based in Abu Dhabi, believes the key to the massive potential for 'mega venues' is recognising the regional landscape's strengths and challenges while continuing to deliver international best practice.
Speaking at the Middle East Event Show recently, Jackson said there is an appetite for more event spaces. He said versatility is needed to host a diverse range of people from different backgrounds with varied needs for events ranging from sport, to fashion, entertainment, music, and "everything in between."
"Versatility is the industry's biggest challenge, but also its biggest opportunity," Jackson says.
"Venues must be able to host varied genres of events to cater to all audiences – from sports and live music to theatrical performances, and everything in between. There is a growing demand for variety, and ensuring we cater to all our audiences means ensuring our venues can play host to this wide-ranging portfolio of events."
Besides providing the space for any type of event, venues also need to set the tone of the atmosphere and shape peoples' experiences, says Jackson.
The venue's accessibility also plays directly into its popularity. If there are no clear directions to the venue, or if the surrounding infrastructure is poor – such as access to public transportation or proper parking spaces – people can lose interest or avoid the venue altogether, he says.
Venues need to be flexible, added Brint, who also outlined that there should be modern and efficient systems in place to make events easier, including 3D ticketing journeys and digital ticketing functionalities.
"The UAE has positioned itself as a leader in delivering major events, largely due to the region's world-class standard of venues and venue management," Jackson said. This was primarily due to wise investment into venues and strong collaboration with key stakeholders, operators, and promoters."
Jackson believes the future potential for the region's events and entertainment industry is significant, highlighting that an integrated regional approach would also help unlock Middle East touring routes.
"With the correct approach, there will be increased demand for regional venues and management solutions," he said.
Ethara, meaning 'thrill' in Arabic, owns and manages an impressive portfolio of assets, including Yas Marina Circuit, Etihad Park, Etihad Arena, and the Yas Conference Centre.
The company was launched earlier this year following the integration of Abu Dhabi Motorsports Management (ADMM) and Flash Entertainment (Flash). It is a new powerhouse shaping the future of events, entertainment, and venue management throughout the Middle East and beyond.
About Ethara:
Ethara is shaping the future of entertainment, sport, culture, event services, and asset management regionally and internationally. Headquartered on Abu Dhabi's Yas Island, and with offices in Dubai and Riyadh, the company employs over 300 professionals who offer an unrivalled wealth of expertise, experience, knowledge and skills. Ethara, meaning 'thrill' in Arabic, owns and manages an impressive portfolio of assets, including Yas Marina Circuit, Etihad Park, Etihad Arena and the Yas Conference Centre. The company works with leading events companies, IP owners, and entertainment partners locally and internationally to deliver world-class, first-to-market events and experiences.